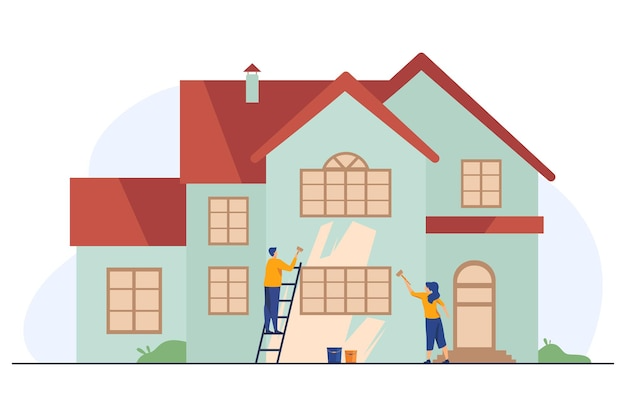 7 Great Ideas for a Stunning Façade Makeover
One of the first things that people notice about your home is the façade. Giving your homes façade, a stunning makeover is a great way to enhance its curb appeal and even boost its market value. So, if you are thinking about giving your home's exterior a facelift, here are some of the best ideas suggested by expert home builders Warragul.
A New Paint Job:
One of the best and the easiest hacks to improve your home's exterior is adding a fresh coat of paint. Pick a colour scheme of your choice, but make sure it complements well with the surroundings. You could also consider painting the front door in a contrasting colour for a unique look.
Update the Exterior Cladding:
This is yet another trick recommended by the experts to improve your home's façade. Some of the options worth considering include wood siding, classic brick, stone veneer, and the like. A new exterior cladding can certainly transform the entire look of your home.
Update Your Roofing:
Yes, the roof of your home does have an impact on its entire curb appeal. If your roofing is worn or damaged, it is time for a replacement. There are several roofing materials available in the market, so get the assistance of home builders Warragul to make a choice. Also, you could consider eco-friendly options, such as solar panels, which could also enhance the overall value of your home.
Upgrade Your Doors and Windows:
The doors and windows of your home are some of the obvious elements that contribute to the look of your home's façade. Replacing them with energy-efficient options is well worth it. Go for windows with elegant frames and doors with stylish hardware to make your home's exterior even more attractive.
Update Your Lighting:
Another great way to improve your façade's appearance is with good outdoor lighting. Some of the best options include pathway lighting, wall scones, and similar options, that highlight specific features and landscaping in the exterior. Good lighting design makes your home stand out from the rest.
Improve Landscaping:
Good landscaping completes the overall look of your façade. Flowers, trees and shrubs add more colour and life to your home. As mentioned earlier, install garden lighting and use flower beds to make your home pleasant and inviting.
Don't Forget the Garage Door:
Homeowners often overlook the relevance of a garage door, but it does have an impact on the overall appearance of any house. You could either paint your existing garage door or replace it with a new design. If you are installing a new door, choose one that blends well with your home's exterior.
Give your home's façade a makeover every now and then to leave a lasting impression. For more assistance on your renovation project, feel free to contact the expert house builders in Warragul today.