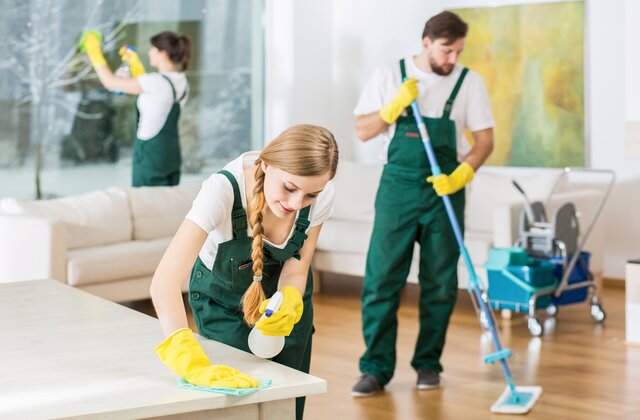 Professional Cleaning Services: Are They Worth the Investment?
Cleaning your home or workspace can be time-consuming and tedious. While you may want to try your hand at DIY cleaning, it can get daunting after a while. That's when professional cleaning comes to your rescue! However, many wonder if professional cleaning services are worth the investment. The answer is yes, they are! They provide an efficient and effective solution to maintain a clean living or work environment.
In this blog, we explore why hiring professional cleaners in Penrith is worth the investment! Let's explore the various ways professional cleaning services can benefit you.
How Professional Cleaning Services Help You?
1. Save Your Time
One of the most apparent benefits of professional cleaning services is that they save you time. It's no secret that managing a household or office is a full-time job, so why not leave the deep cleaning to expert professionals? A professional cleaner can take care of all your deep cleaning needs in half the time it would take you to do it yourself.
If you are a DIYer, you may be aware of the tedious cleaning processes of your residential premises and the nuances that go into it. By allowing professional cleaners to assist you in the job, you save yourselves a lot of time and work! So now you can focus on more important tasks, such as managing projects at work or spending quality time with your family.
2. Time Flexibility
Another benefit of hiring professional cleaning services is they schedule cleaning as per your schedule. Professional cleaning services offer time flexibility, allowing you to schedule the cleaning at your convenience. If you are a commercial complex owner with offices functioning in the daytime, you can schedule cleaning at night!
Similarly, residential complexes can schedule weekend cleaning at their convenience and return home after a short weekend vacation to a fresh and new feel! It's difficult to find such time flexibility in the cleaning schedule with local cleaners due to the availability of manpower. However, professional cleaning services do not have such problems.
3. Provide Expert Cleaning
One of the most important benefits of hiring professional cleaning services is the expertise they have to offer. You may not get expert cleaning advice from your local cleaners who have just started providing services in your locality. However, professional cleaning services have experienced and highly skilled cleaners who have spent years in the business, providing expert cleaning to numerous customers.
Such professional cleaners can offer insight into maintaining the cleanliness of your surroundings and home while providing some of the best cleaning services. Expert cleaners are well aware of various cleaning solutions and are pros at managing numerous cleaning tools and new-age equipment. Thus, trusting expert cleaners for your residential cleaning project can go a long way!
4. Health Benefits
In addition to offering time-saving benefits, professional cleaners also provide health benefits by removing allergens, bacteria, and dust from your home or office space. Regularly scheduled cleanings significantly reduce these health risks while also providing peace of mind knowing that your environment is thoroughly cleaned and sanitized by experienced professionals.
Furthermore, certain types of cleaners may have specific equipment used for hardwood floors and carpets that can help remove dirt and grime while leaving behind a fresh scent. Moreover, professional cleaners use non-hazardous substances that are eco-friendly and do not harm their environment or the people living on the premises. Thus offering additional health benefits.
5. Cost Benefits
Another benefit of using a professional cleaner is cost savings. Professional cleaning companies often offer discounts for regular customers, which helps save money over time. Suppose you are a regular client of a professional cleaning service company. In that case, you may get additional benefits from the same professionals sent to your home or commercial premises for recurring services.
Moreover, professional cleaning service companies have expert cleaners who provide long-term cleaning solutions that help you save on extra expenses of repeated cleaning in the future. Additionally, certain companies may offer packages tailored specifically for budget-conscious customers who need basic cleaning services such as dusting and vacuuming but don't require extra services like steam cleaning, carpets, or furniture polishing. Such package deals can come in handy to save some extra money on your budget-friendly cleaning solutions!
6. Efficient Efforts
Finally, professional cleaning companies offer efficient and on-time service delivery. Hiring professionals ensure your cleaning services are completed as per the scheduled timeline, without any delay. Professional cleaning services are experts at their job and work diligently towards achieving the best cleaning results and the highest customer satisfaction.
Apart from this, you can be assured of a guaranteed success in your cleaning project if you hire professional cleaning solutions. This is because cleaning companies understand the importance of their association with you and work towards building a long-term connection by offering outstanding cleaning services. Their experienced cleaners have spent years in the business and understand your cleaning needs better than any other local cleaners.
Conclusion:
In conclusion, investing in professional cleaning services is well worth it because they provide efficient solutions for keeping your living or work space clean while saving you time and money in the long run. Not only do they provide excellent service, but they can also help improve air quality and reduce allergy symptoms by removing allergens from your home or office environment.
So next time you need a thorough deep clean for your home or office space, consider hiring a professional cleaner in North Sydney from Sparkleen Cleaning. They offer excellent cleaning solutions and have expert cleaners who excel in comprehensive cleaning services. If you require Airbnb cleaning, end-of-lease cleaning, strata cleaning, etc., contact them right away!